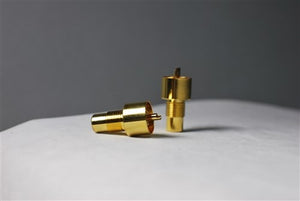 MANLEY RCA CONNECTORS GOLD PLATED
The MANLEY RCA Phono jack is a unique designed part which has been in production for over 20 years. The machined brass barrel and precisely machined inner pin are gold plated for a long lasting, non-tarnishing, and attractive finish. The two-part dielectric is machined from Teflon. The problem with lesser plastics or nylons in cheap RCA jacks is they melt when you solder to the jacks. Not ours!
These jacks mount from the rear, from inside the chassis. Our MANLEY RCA jacks are easy to install either in a hard-wired or buss-wired style or mounted onto printed circuit boards. In fact, the rear part of the jack is a similar length, 0.400" as many common toggle and rotary switches allowing for mounting switches and these RCA jacks on the same PCB. This length can be increased by shimming back the jack with shoulder washers and/or internal toothed washers. Mounting the jacks to PCB boards assures anchoring of the hot and ground barrels so that the inner pin will never spin. The back barrel outside diameter is 0.570". The hot pin is 1/8" in diameter and protrudes 0.125" from the back barrel. It is scooped for easy wiring to the solder cup.
Each MANLEY RCA jack comes with a set of red or white nylon shoulder washers to insulate the ground outside from a chassis. The chassis hole should be 0.500" to use the insulators. One can also use a internal toothed washer to make a purposeful chassis ground connection. In that case, make the chassis hole 0.375, the diameter of the front of the RCA jack.
A 3/8 - 32 chrome-plated nut secures the MANLEY RCA jack to the chassis. There is 0.330" of thread available, plenty for a thick chassis.
These are beautiful parts and they sound great. So practical, and so strong. We don't think there is a better part on the planet, which is why we have used our MANLEY RCA jacks for over 20 years in our MANLEY vacuum tube high fidelity amplifiers and HI-FI preamplifier's.